Surveys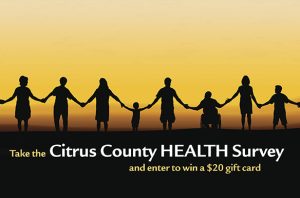 Citrus County Health Survey
Citrus County residents and healthcare providers are invited to share their views on health and healthcare by taking a 10-minute survey. Survey participants will have the opportunity to win a $20 gift card. Survey results, along with research and health-related data, will be used to assess the region's most pressing health needs. Surveys are available in English and Spanish. In addition to the online survey, hard copies will be available through the Florida Department of Health in Citrus. For more information on the Citrus County Health Survey, contact Christine Abarca at cabarca@wellflorida.org or 352-727-3767.
Shands Lake Shore Regional Medical Center
Residents in the service area of Shands Lake Shore Regional Medical Center are invited to join a focus group to talk about healthcare and the health of their communities. Participants will earn $20 for roughly two hours of their time. The focus groups are intended to help Shands Lake Shore better understand issues that are important to the community and its leaders. Feedback from the focus groups will be used towards a Community Health Needs Assessment. Please call WellFlorida Council for the focus group schedule and to sign up! Call 352-727-3765.
Shands Lake Shore Regional Medical Center Community Health Survey