Florida Safe Routes to School urges children to be active while teaching them about traffic safety
In an effort to reduce the risk of diabetes, obesity and other health issues, WellFlorida's newest program Safe Routes to School (SRTS) will encourage children to walk or bike to school while also teaching them how to be alert in situations that involve pedestrian and bicycle safety. The statewide program, funded by the Florida Department of Transportation, will offer free training workshops that will prepare teachers and other community members in teaching kids how to safely interact with traffic.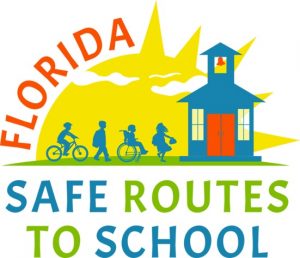 With SRTS, the Department of Transportation is encouraging communities to address their school transportation needs and urge more children K-8 to walk or bike to school. Additionally, SRTS aims to remove any barriers, including unsafe infrastructure and lack of programs, that would prevent students from walking or cycling.
A 2015 report from the Center for Disease Control and Prevention found that Florida has the highest rate of cycling deaths in the nation. In Alachua County, Gainesville Mayor Lauren Poe has pledged to implement a "Vision Zero" plan, a nationwide movement which aims to reduce traffic fatalities by altering the education, engineering and enforcement of traffic safety. In his 2016 campaign for Mayor, Poe emphasized his goal of reducing traffic fatalities in the city to zero by 2025.
Training sessions for Physical Education teachers in elementary and middle schools throughout North Central Florida are currently being scheduled. These sessions will allow teachers to order free helmets for their students in addition to giving them other resources to promote safety. To schedule a training session for teachers or community members in your county within North Central Florida, contact Morris Sherman at msherman@wellflorida.org or by calling 352-313-6500 ext. 114.
Learn more about Safe Routes To School by visiting FloridaSRTS.com or srtsFL.org.
Upcoming SRTS events:
Wednesday, May 9 is National Bike to School Day
Schools can choose to participate on this day or pick another day in May. Participation can be as simple as encouraging students to walk/bike/roll to school. Some schools are incorporating bicycle and pedestrian "safety messages" on the morning announcements leading up to the designated day.  Schools should sign up on http://www.walkbiketoschool.org/ and contact Morris Sherman at msherman@wellflorida.org or 352-313-6500 ext. 114 for more information or suggestions on how to participate in this national effort.
Saturday, May 19: The Town of Welaka Police Department is hosting a bike rodeo. Download the flyer.
Sunday, May 20: Palatka Police Department is hosting a bike rodeo at Triangle Park: 120 Carter Rd, Palatka, FL 32177 from 10 a.m. to 1 p.m.